Dog Sizing
Dog Coat Fitting Guide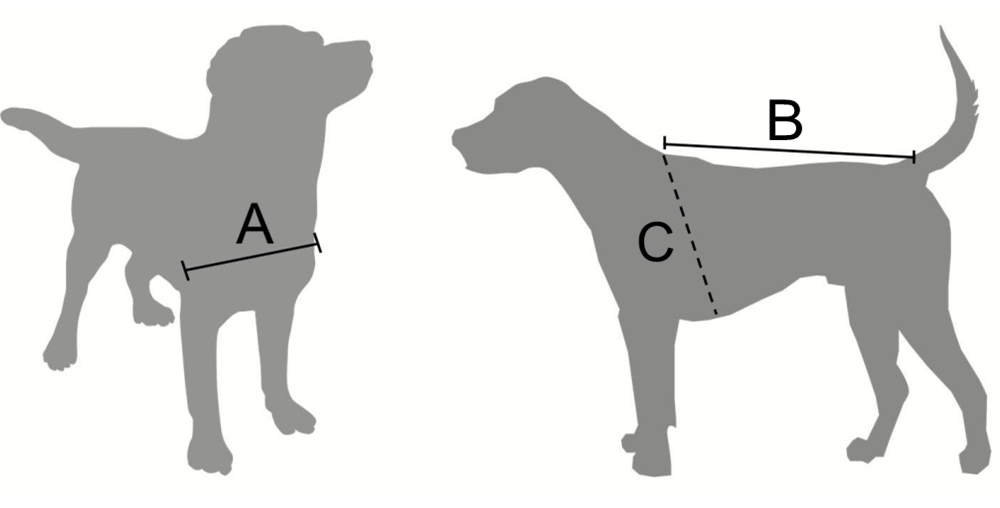 Measuring Tips For Best Fit
Johnson Woolen Mills recommends the use of a 6ft tape measure from a sewing supply store. Be sure when you measure to keep the tape snug (not tight) to your dog's body.
Coat Width (A)
To measure coat width, measure the widest section of the chest.
Measure from the base of the tail up to the shoulder while keeping the tape parallel to the dogs body.
Chest Strap Length (C)
Wrap your tape around the fullest part of your dog's chest. **All dimensions are given in inches**
| | | | |
| --- | --- | --- | --- |
| Size | Coat Width (A) | Coat Length (B) | Chest Strap Length (C) |
| XXS | 12 | 8.5 | 11-14 |
| XS | 14.5 | 10.5 | 16-20 |
| S | 17.5 | 11 | 18-22 |
| M | 19 | 14 | 24-30 |
| L | 23.5 | 17 | 28-34 |
| XL | 27 | 21 | 35-42 |